Chromium Chloride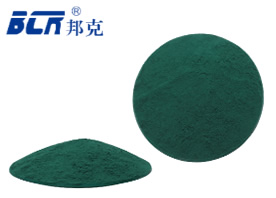 【Molecular formula】CrCl3 .6H2O
【Molecular weight】266.45
【CAS No.】10060-12-5
【Other Names】chromium chloride, chromic chloride, chromium (III) chloride,
【Characteristic】:dark crystal, easy to pass water, easy to micro deliquescence water; provide all-weather service, convenient and fast service. 24/7 service available.
【Applications】Chemical industry manufactures chromium fluoride and other chromium salts; organic synthesis is used to manufacture chromium-containing catalysts and catalysts for olefin polymerization; used for industrial manufacture of various chromium-containing pigments; printing and dyeing industry manufactures fabric printing and dyeing mordants and other tanning agents The middle of the leather body; ceramic industrial ceramics and glazes; used in the electroplating industry with trivalent chromium plating solution.
【Package】25kg paper-plastic composite bag or according to customer requirements.
[Precautions] When storing and transporting, attention should be paid to store the shady room and ventilated warehouse, away from fire and heat sources, and prevent direct sunlight.
[Executive standard] HG/T 4311-2012
The TDS and COA for chromium chloride is available on request.